WATER IS LIFE – GIVING BACK TO THE COMMUNITY
16/03/2021

| | | |
| --- | --- | --- |
| Hosted by | Supported by | Proudly Sponsored by |
| | | |
OUR CSR CAMPAIGN STORY
Managing water resources and tackling exacerbating water shortage are our biggest challenges in recent time not only in Vietnam but also in globally. Reported by World Health Organization, 785 million people lack even a basic drinking-water service, including 144 million people who are dependent on surface water. By 2025, half of the world's population will be living in water-stressed areas. In least developed countries, 22% of health care facilities have no water service, 21% no sanitation service, and 22% no waste management service. Understanding the need of water in life. We-Informa Markets would like to contribute to community by running a CSR campaign in Vietnam.
In the conjunction to Vietwater-Vietnam's leading international water supply, sanitation, water resources and purification event, together with Australian Water Association, we contributed to "Safe Drinking Water" in several rural areas in Vietnam.
Together we have done 3 projects in Vietnam!
2017-SAFE DRINKING WATER PROJECT IN KHANH HOA PROVINCE
With the participation of Management Members of Informa Markets (formerly UBM), Ministry of Construction together with board of management of Vietnam Water and Sewerage Association (VWSA), CSR program provided the water filtering system.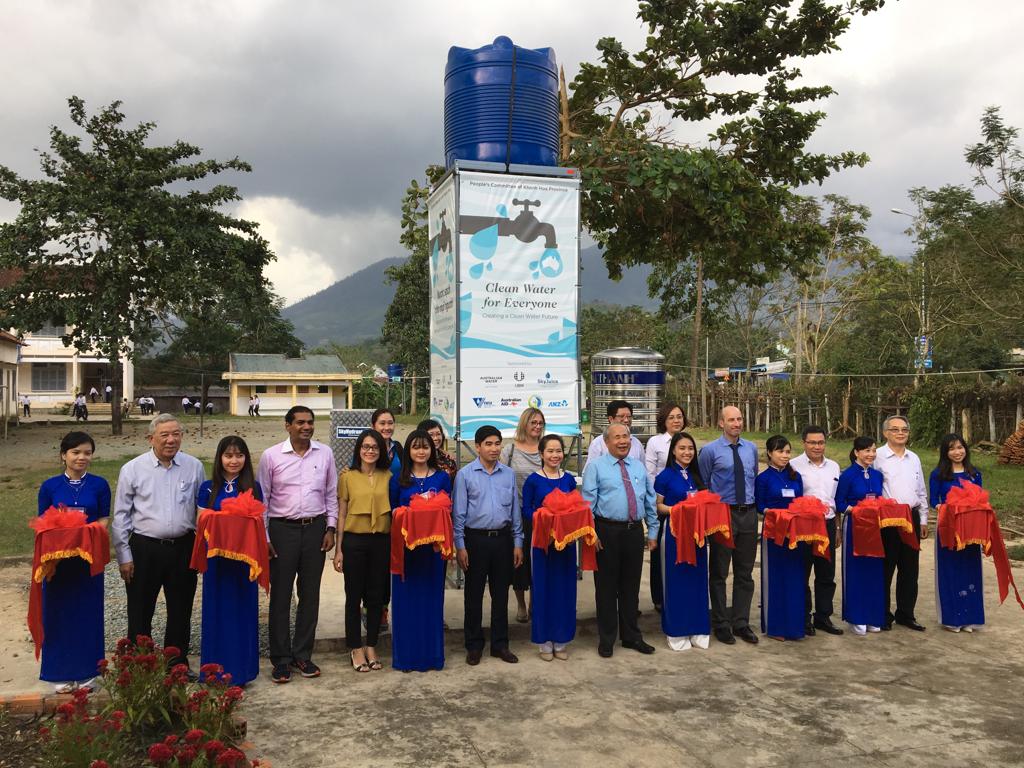 From Left: Ms. Duong Hong Van, Senior Programme Manager, Australia Embassy in HaNoi; Ms. Elise Coughlin, Senior Trade Manager, Victoria Government; Mr. M. Gandhi, Managing Director (ASEAN Business), USM Asia; Mr. Luong Van Anh, Director, National Centre for Rural Water Supply and Sanitation; Mr. Dao Cong Thien, Vice President of Provincial People's Committee; Mr. Paul Smith, International Manager, Australian Water Association; Mr. Ung Quoc DUng, Vice Chairman, VWSA
The UBM 'Safe Drinkliing Water' campaign was a joint venture with Vietnam Water & Sewerage Association (VWSA), The Australian Water Association (AWA), The Australian Department of Foreign Affairs and Trade (DFAT), The Khanh Hoa People Committee and the SkyJuice Foundation to deliver a safe drinking water project in rural communes of Khanh Phu & Lien Sang, Khanh Hoa Province, Vietnam. The project was developed at the Cao Van Be High School, Khanh Phu Commune and Le Van Tam High School, Lien Sang Commune, Khanh Vinh District. The project was funded by Khanh Hoa Peoples Committee (AUD 20,000), the Australian Department of Foreign Affairs and Trade (DFAT) (AUD 32,500) and UBM Asia (AUD 12,500).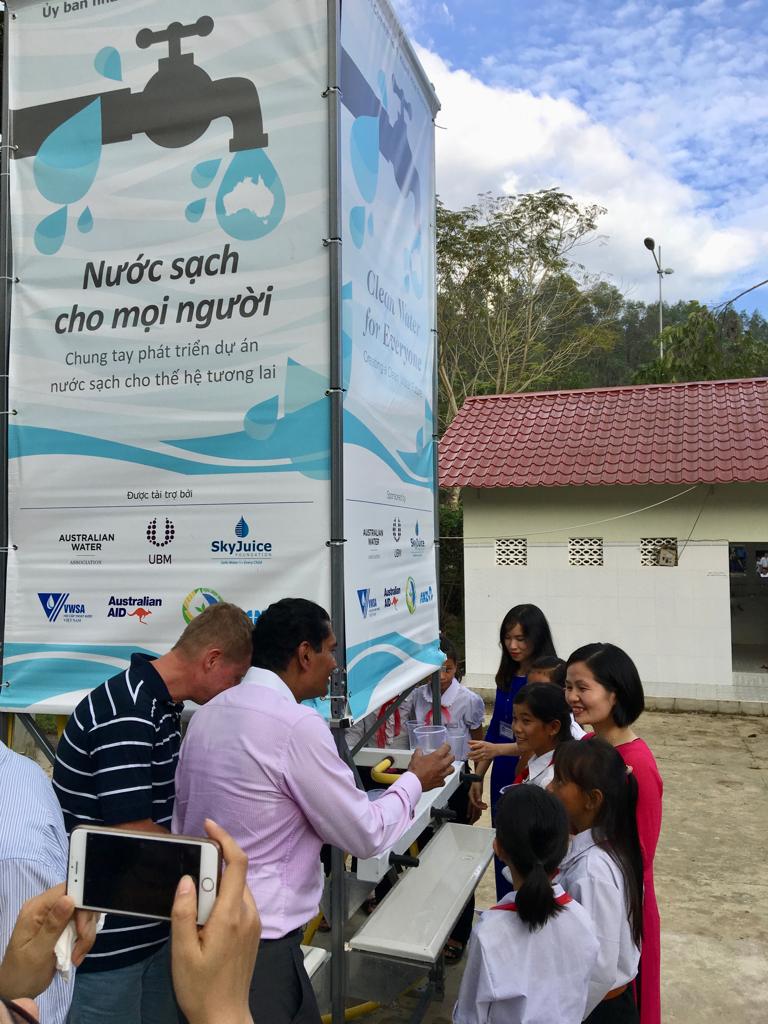 The water filtration systems are equipped with two water treatment systems, each with the capacity of producing 10,000 liters Of water per day. The water system will provide the needs for clean water supply to 700 students and teachers as well as residents in the nearby areas. It is estimated that more than 1,500 people will receive clean water supply from the UBM CSR 'Safe Drinking Water' campaign.
To ensure the long term sustainability of the water treatment systems, AWA has volunteered to provide water assessment tools to the schools together with remote repair and maintenance service to local representatives from the Khanh Hoa provincial Water Supply Authority and operators of the systems.
2018- PROVIDE DRINKING WATER SYSTEM IN SON LA PROVINCE
Informa Markets (formerly UBM Asia) has been working in partnership with the Australian Water Association (AWA), the Son La Peoples Committee and PCERWASS and an Australian company called Salt Free to install and pilot an innovative motor bike powered water treatment system to deliver a safe drinking water project in a rural Communes of Son La Province in the mountain area in the North Of Vietnam.
The system is providing safe drinking water for up to 4, 700 people with about 10,000L per day of safe drinking water in rural areas without access to safe drinking water or reliable energy sources. UBM Asia is very proud to have the opportunity to work with water specialist, local authorities and water companies to have realized this CSR project.
The Water CSR Program is part of ASIAWATER Responsible Business Alliance (AWRBA) – an alliance of our UBM ASEAN Water Series with a mission to bring clean, safe drinking water and sanitation to the underprivileged population residing in underdeveloped countries in the region. UBM has sponsored so far in the last two years CSR water projects in Myanmar, the Philippines and this is our 2nd CSR project in Vietnam in the water sector!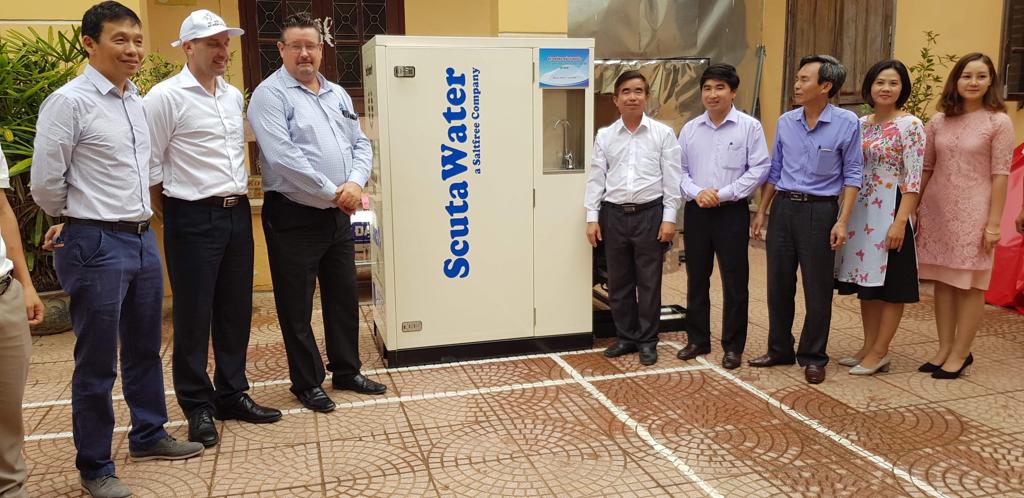 2019-LAUNCH THE DRINKING WATER SYSTEM FOR CAM THANH BAC SCHOOL IN THE PROVINCE OF KHANH HOA
This project provides 10,000 liters per day safe drinking water for Cam Thanh Bac Primary School principle, teachers and 800 students school using the latest innovations in water treatment provided by Evoqua water technologies and with water quality testing undertaken by ALS.
This project is the 3rd drinking water installation Informa Markets (formerly UBM) have supported in rural schools across Khanh Hoa province which now provides 30,000L per day safe drinking water for over 1600 students and teachers including:
Le Van Tam School, Khanh Hoa, 565 students
Cao Van Be School, Khanh Hoa, 279 students
Our sincere gratitude goes to all involved:
Khanh Hoa People's Committee, Ms Nguyen Thi Dai Trang, Director, Provincial Centre for Rural water Supply and Sanitation
Cam Lam District and Cam Thanh Bac Commune people's Committees
District People's Committee
Cam Thanh Bac Primary School principle, teachers and students
Australian Government
Australian Water Association
Bruce Biltoft, Evoqua Water technologies – technology providers
Bruce Pollard, ALS – water quality testing
Vietnam Water Supply and Sewerage Association