Ca Mau's largest freshwater lake to provide clean water for 11,000 families
24/05/2023
Construction of the Mekong Delta's Ca Mau Province's largest freshwater lake, which will provide clean water for over 11,000 families, is now 70% complete.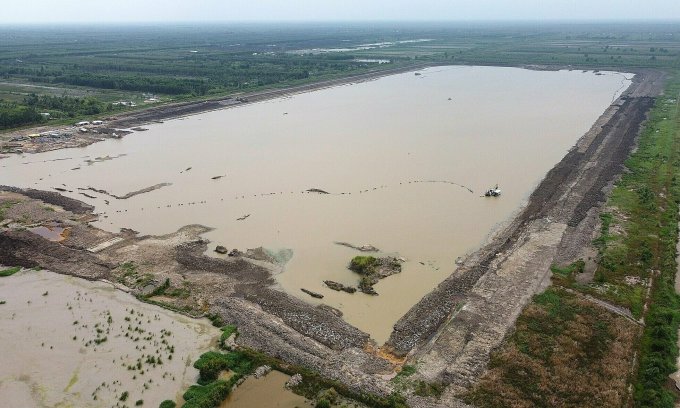 A freshwater lake under construction in Ca Mau Province, southern Vietnam. Photo by VnExpress/An Minh
The lake, spanning 102 ha and costing VND184 billion ($7.84 million), is capable of holding 3.85 million cubic meters of water, said Nguyen Van Sol, director of the Ca Mau management board of official development assistance (ODA) and NGO projects, which oversees the lake's construction, on Tuesday.
Once completed, the lake, in Khanh An Commune, will provide water for thousands of families in U Minh District.
The project is part of the Mekong Delta Integrated Climate Resilience and Sustainable Livelihoods Project. It is funded by ODA from the World Bank, and its main investor is the Ca Mau Department of Agriculture and Rural Development.
It began construction in January 2022 and is expected to be completed in 2024.
Besides providing clean water, the project will also reduce underground water usage, prevent erosion, and help fight forest fires during the dry season.
The lake will also redirect freshwater from the Hau River to be used in areas like Tran Van Thoi and Thoi Binh districts and the Khanh An industrial complex.
The construction unit said progress would be more difficult once the rainy season arrives, coupled with a weak soil foundation in the area.
To counteract this, parties will adjust certain parts of the lake to ensure structural integrity, preventing erosion. Contractors said the project would basically be completed by the end of April 2024.
Source: vnexpress